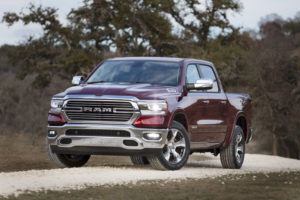 The best way to get familiar with the All-New 2019 Ram 1500, short of buying one, is to see it in person at your local BusinessLink dealership. If you're a BusinessLink member, your dedicated account manager will be more than happy to list for you the many upgrades and improvements while out on a test drive. If you're not (yet) a member, a friendly salesperson will be just as happy to assist you.
What's the next best way of getting to know this truck apart from a visit to the dealership? By checking in periodically on this blog of course. Since the reveal of the All-New 2019 Ram 1500 in January 2018, we've published a steady stream of content on a variety of Ram 1500 topics, from available trim levels to specific features (the Active-Level™ Four-Corner Air Suspension, for example) and so on.
Today we're pleased to share some of our most thorough content yet, an almost 10-minute no-nonsense video chock-full of information pertaining to capability, safety and security, standard and available features and much, much more. While it's no substitute for an in-person test drive, it's terrific preparation for the test drive we invite you to schedule right now.