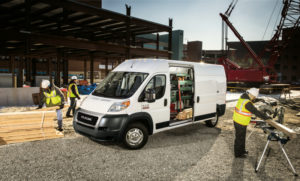 Business owners like you benefit in big ways from joining FCA's no-cost BusinessLink program. While there are many perks to the program, and though all have value, the most popular tend to be those related to vehicle service, maintenance and repair work.
For example, BusinessLink members have access to extended service hours at participating Chrysler, Dodge, Jeep®, Ram and FIAT® Brand dealerships (aka BusinessLink dealerships). They also enjoy priority or next-bay service – members skip to the front of the service line, in other words. These two benefits, often arranged by a dedicated account manager (yet another BusinessLink perk), do much to ensure that work vehicles return to the road and get back to making money as quickly as possible.
But preferential treatment means nothing if the work that follows is not of the highest quality. Accordingly, certified Mopar® service technicians at all BusinessLink dealerships receive intensive training straight from the manufacturer. In addition to world-class training programs, FCA offers a number of innovative resources service techs can enlist for help in diagnosing and solving whatever vehicle issues may arise.
For more information on these resources and our great service techs, please watch the video below.
Join the BusinessLink program to begin enjoying the membership perks listed above – enrollment is easy, convenient and free!