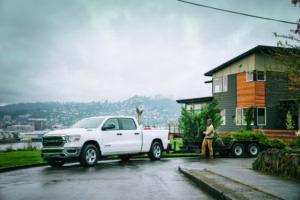 "In order to be the best, it takes a commitment to innovation, capability, efficiency and durability. Ram Trucks invests substantially in its products, infusing them with great looks, refined interiors, durable engines and exclusive features that further enhance their capabilities.
"Truck customers, from half-ton to commercial, have a demanding range of needs and require their vehicles to provide high levels of capability. Whether focusing on a family that uses a Ram 1500 day-in and day-out, a hard-working Ram 3500 Heavy Duty owner or a business that depends on its Ram ProMaster® commercial van every day for deliveries, Ram has the truck and van market covered."
Taken verbatim from the offical Ram Trucks Facebook page, these two paragraphs can be summed up in one word: promise. The Ram Brand has promised to produce the best trucks possible. In many ways it's because Ram Brand customers have made promises of their own – to help loved ones, to serve their communities, to follow their own passions and interests. From the brand's standpoint, little else is more important than providing a means (i.e., capable work trucks and cargo vans) by which such promises are kept.
To test drive the All-New 2019 Ram 1500, stop by a BusinessLink dealership near you!