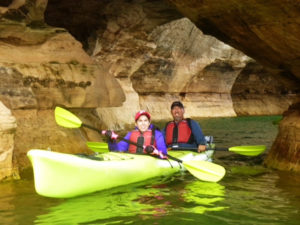 By Cheryl Angelelli
It's been a year since I became a brand ambassador for FCA's Driveability program and the wheelchair-accessible Chrysler Pacifica. I really love sharing all the ways the innovative features in my vehicle help me live and drive independently. If you follow me on social media, you know I have a very active lifestyle, which makes the Chrysler Pacifica the perfect car for me. One of the things I enjoy most is traveling.
With its roomy interior, comfortable seats and the available Uconnect® entertainment system, the Chrysler Pacifica is the perfect vehicle for road trips.
To celebrate my birthday, my husband and I recently loaded up the Pacifica and headed north to Michigan's Upper Peninsula for a long weekend of kayaking. Our first stop was Mackinac Island. Mackinac Island, located between the Upper and Lower Peninsulas, is one of Michigan's greatest gems. The island is a throwback to a simpler life. It prohibits motor vehicles, so the only way around the 8.2-mile island is by foot, bicycle, horse carriage or boat.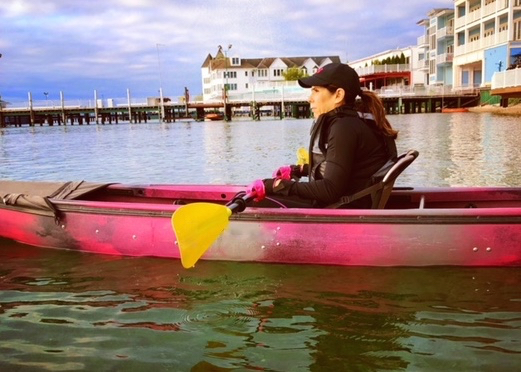 We enjoyed an overnight stay at one of the island's few hotels and awoke the next morning at sunrise for a kayaking trip around the island. Kayaking is one of my favorite recreational hobbies. I find it to be so peaceful and serene. With that first dip of the paddle into the water, it's as if all my cares and stresses are left behind on the shoreline. It is also an activity that can be easily adaptable for someone who uses a wheelchair like me.
After an amazing day on the water, sightseeing and shopping, we repacked our Pacifica and headed further north to Munising. Located in the Upper Peninsula, Munising is the perfect playground for the outdoor adventurer. From kayaking to biking and hiking, the city and its surrounding areas offer something for everyone. The highlight of our trip was kayaking along the Pictured Rocks National Lakeshore. Along miles and miles of rugged Lake Superior shoreline, we were treated to the most amazing views of Pictured Rocks' colorful sandstone cliffs towering 50-200 feet above us.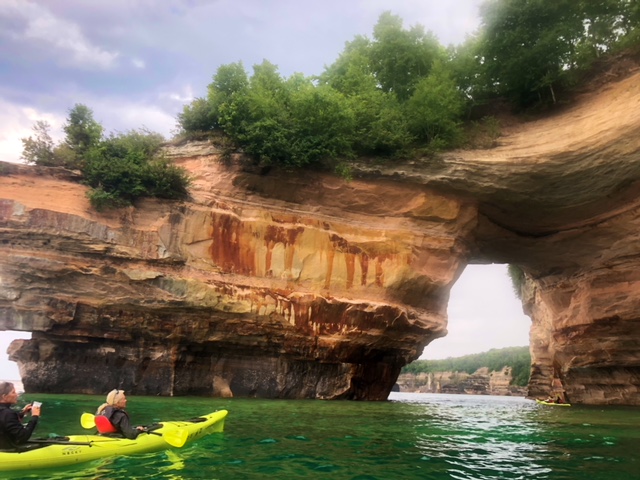 We also enjoyed exploring some of Munising's beautiful waterfalls. The area has nearly 20 waterfalls including a few that are wheelchair accessible. I took this photo (below) of my Chrysler Pacifica in front of Alger Falls, which is one of the waterfalls that can be viewed right from the roadside.
I have had the great fortune to travel all over the world — 28 countries and counting — but it was really nice to be able to explore my own state, to enjoy all the beauty it has to offer and to do so in my Chrysler Pacifica. We are already thinking about our next trip, so send me some suggestions. Where should we go, and where are some of your favorite spots to vacation?
The FCA US Driveability Program provides customizable adaptive equipment to help make life easier for people with disabilities. Visit the program website to learn more about the available $1,000 reimbursement on the purchase of qualifying equipment.
About the author: Cheryl Angelelli is a 4-time Paralympic medalist in swimming, an Athletes with Disabilities Hall of Fame inductee, an award-winning wheelchair ballroom dancer, co-founder of Dance Mobility and an official brand ambassador for FCA Driveability.