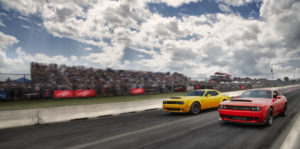 It's not often that the topic of drag racing finds its way onto the FCA Work Vehicles blog, a resource otherwise focused on Chrysler, Dodge, Jeep®, Ram and FIAT® Brand work vehicles along with the business-related programs offered by FCA US LLC. When we do find reason to post racing-related content, prepare to be inspired.
Even though the stars of this video (below) are specifically discussing what it takes to win races, it's almost impossible not to see how their advice can be applied to the arena of small business. Hard work, consistency, a willingness to grind – turns out certain universals are always at play when it comes to outpacing the competition, be it on the racetrack or in the marketplace.
Outpace your competition with a new work vehicle from FCA US LLC. Stop by your local BusinessLink dealership today!