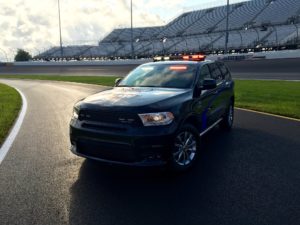 You don't get a second chance to make a strong first impression. For the new Dodge Durango Pursuit, one chance is proving to be enough.
In one of its first official appearances, a ride-and-drive event at the 2018 Police Fleet Expo in St. Louis, the pursuit-rated Dodge Durango wowed seemingly everyone in attendance. Despite blazing track-side temps, officers from across the country waited patiently for their chance to take the Dodge Durango Pursuit on a single-lap test drive around Gateway Motorsports Park. For most it was their first experience with the new vehicle, and it did not disappoint.
Post-drive interviews revealed exactly what officers found so impressive. Citing acceleration, handling, a roomy interior and much more, officers ultimately suggested that the Dodge Durango Pursuit would be a welcome addition to any agency. In fact, if these officers have their way, we can all expect to see the pursuit-rated Durango out in force in our communities in the very near future. Here, for your veiwing pleasure, is a video recap of the event.
Law enforcement officials interested in learning more about the Dodge Durango Pursuit should visit the FCA Law Enforcement website. Demo vehicles are available.