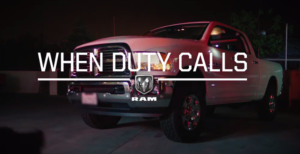 Welcome to Part 2 in our "Ram Heavy Duty Heroes" blog series. If you missed Part 1, or want to revisit it, you can get there by following this link.
There can be no discussion of Heavy Duty Heroes without including firefighters. After all, few professions demand more from their workforce, and few professionals play a more important role in society, serving alongside law enforcement officers as first responders if and when the unthinkable happens.
Given the nature of the job and the expectations placed on them – expectations, we should add, they willingly accept – it's no surprise that firefighters would make the most of their time off. They deserve it!
We're proud to be a part of the rest-and-relaxation efforts of firefighters like Josh Henderson. When not on duty, Josh heads for the desert with motorbikes in tow. What's his truck of choice to get there? The Ram 3500. Why? As he says in the video below, "There's no thought in my mind the truck won't handle what I need it to do." Please enjoy.
Visit your local BusinessLink dealership to learn more about Ram Heavy Duty trucks.