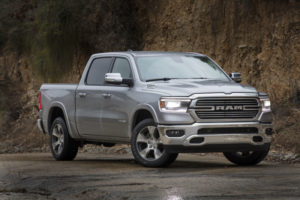 The All-New 2019 Ram 1500 has lived up to early expectations by taking home a number of the industry's most illustrious awards, including this one and this one. Now that the 3.6L Pentastar® V6 engine with eTorque mild hybrid system has been named one of Wards 10 Best Engines for 2019, the Ram 1500's powerplant can boast a prestigious honor of its own.
Making its debut in the the All-New 2019 Ram 1500, the standard 3.6L Pentastar V6 engine with eTorque achieves up to 305 horsepower and 269 lb-ft of torque. The mild hybrid system helps improve efficiency without sacrificing horsepower, torque or capability, and does so with no extra effort required of the driver.
"The versatility of our workhorse Pentastar V6 engine family is unquestioned, with more than 9 million produced; and this latest Wards milestone represents the sixth time the 3.6-liter engine has been recognized with three different iterations," said Bob Lee, Head of Engine Powertrain and Electrified Propulsion Systems Engineering, FCA-North America. "With the new eTorque mild hybrid system, receiving the Wards 10 Best recognition validates our mission to provide customers optimal ownership value without sacrificing performance."
The eTorque mild hybrid system replaces the engine's traditional alternator with a belt-driven motor generator unit that performs in conjunction with a 48-volt battery pack to enable improved fuel efficiency, drivability and performance. In rear-wheel-drive Ram 1500 models, the system helps achieve up to 20 mpg city, 25 mpg highway and 22 mpg combined1. In four-wheel-drive models, up to 19 mpg city, 24 mpg highway and 21 mpg combined is possible2. The city mpg rating is an 18 percent improvement over the previous model while the combined mpg rating has improved by a full 10 percent.
Stop by a BusinessLink dealership near you for more information on the award-winning Ram 1500 and the innovative engine systems that power it.
1EPA estimated mpg with 3.6L Pentastar V6 eTorque engine and eight-speed automatic transmission, 4×2. Actual mileage may vary.
2EPA estimated mpg with 3.6L Pentastar V6 eTorque engine and eight-speed automatic transmission, 4×4. Actual mileage may vary.