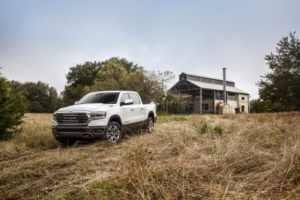 The harvest may be in for the year but that doesn't mean all the work is done. Truth is, when you're a farmer, there is always more to do – another task on the list, another job that needs attention. Even when you're finished (for now) with all the chores at your own farmstead, there is always someone else in the community who could use a helping hand.
So it goes for hardworking farmers all across the country, and especially for the three farmers featured in the videos below. Handpicked by Ram Trucks for having made a significant impact in their communties, Grayce Emmick (Kentucky), Jake Ledoux (New York) and Arnold Pennoyer (Wyoming) truly exemplifly the farmer spirit. In fact, they and folks like them are a big reason the Ram Brand celebrates the "Farmer in All of Us." Please enjoy.
Farmer In All Of Us | Grayce Emmick | Ram Trucks
Farmer In All Of Us | Jake Ledoux | Ram Trucks
Farmer In All Of Us | Arnold Pennoyer | Ram Trucks
The Ram Brand's commitment to agriculture is evident in several important ways, including the recent launch of Ram Chassis Cab Harvest Edition trucks as well as the signficant vehicle incentives available to people who own working farms. Information on the latter can be found at the Ram Life website.