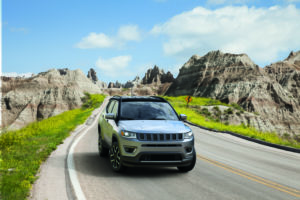 It's a fact of life that certain vehicle components wear down with use and time. The effect is especially pronounced for work vehicles on the go all day long.
One way – perhaps the best way – for small businesses like yours to minimize costly downtime is by being proactive. Performing regular maintenance on your vehicle before things go wrong will help lessen the severity of some issues while preventing others altogether.
Use our "Spring Cleaning" checklist, developed with insight from the Mopar® Brand, to help make sure your car, truck, SUV or cargo van is ready for the warmer months ahead. After all, it's okay if you take a spring break or summer vacation, but a well-cared-for work vehicle should seldom need extra time off.
Check Brakes
Brakes are one of the most used (and often abused) vehicle components. A thin layer of the brake pad disintegrates every time the brakes are applied. It's vital to replace pads or shoes before drums or rotors become damaged. Check pads, shoes, drums, rotors, calipers, fittings, brake hardware and the parking brake to prevent problems.
Check Tires
A smooth and safe ride starts when the rubber meets the road. Check air pressure on all tires, including the spare, as improper tire pressure leads to premature wear and a decrease in fuel mileage. The entire surface of the tire, both tread and sidewall, should be inspected for uneven or irregular wear. Excessive edge wear, center wear and shoulder wear may be signs that other maintenance is required.
Check Wiper Blades
Be prepared for spring showers and summer storms. Properly functioning wiper blades increase visibility in all conditions. Certain all-season wiper blades – like those from the Mopar® Brand – are made from an all-metal superstructure that provides durability and reliable performance. 
Check Headlamps, Taillamps, Turn Signals and Hazard Lights
Properly functioning headlamps and taillamps play an important role in safe driving, especially in dark, rainy and/or foggy conditions. Inspect and test all exterior lamps and lights, including turn signals and hazard lights, to ensure they are in proper working order and alignment.
Check Air Filter
The air filter is one of the unsung heroes of a vehicle, as it protects the engine from airborne contaminants. Poor airflow within the engine hinders performance and can lead to greater fuel consumption. Replacing a dirty air filter allows clean, unrestricted airflow into the engine and helps ensure proper performance and longer life. 
Check Oil
Oil is the lifeblood of the engine. Engine oil level should be checked often, replenished as needed and changed regularly. Low or dirty oil may have dire consequences on how the engine and its components perform, especially under the extreme heat and conditions of summer driving. 
Check All Fluid Levels
With the increase in miles driven during warm-weather months, vehicle fluids and lubricants should be checked often and changed at factory-recommended intervals to make sure they're fresh and filled. Dirty or low fluids may affect the performance of a vehicle and can lead to breakdowns if not properly monitored and filled.
Check Engine Belts, Hoses and Fuel Filter
Belts and hoses under the hood play an important part in the proper function and performance of the engine. Prevent breakdowns or serious engine damage by replacing belts and hoses at recommended intervals. Checking and replacing the fuel filter is also key to ensuring that the engine is running at its optimal level and maximizes efficiency.
Check Battery
Following a winter of cold-morning starts, it's important to inspect the battery. Having reserve power to run the air conditioning and other vehicle accessories in the summer is priceless. When inspecting the battery, be sure to look for corroded terminals, and check for a bulging or cracked case.
Check Shocks & Struts
Following the traditional cold-weather pothole season, shocks and struts should be checked. Shocks and struts are vital to a smooth ride and may also affect a number of related parts on your vehicle. Mopar shocks and struts optimize vehicle handling, tire life and keep vehicles riding smoothly.
Short on time? Keep this in mind: Among other perks, members of FCA's BusinessLink program enjoy priority, "next-bay" service at participating dealerships. When it comes time for your next round of routine maintenance, rest assured knowing we'll have you back out on the road and back to business in no time.