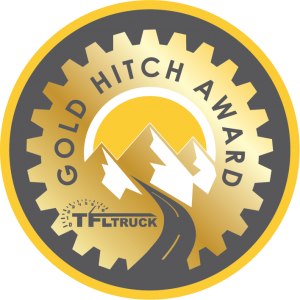 Silence may be golden but so too is the latest honor earned by Ram Trucks, which is why we're amped to share the good news: The Fast Lane Truck (TFLtruck) has awarded the prestigious Gold Hitch Award in the light-duty segment to the All-New 2019 Ram 1500.
To name the winner this year, TFLtruck editors took contenders and a loaded trailer to the notorious Eisenhower Pass outside Denver. Nicknamed the "Ike Gauntlet," the grueling climb reaches elevations in excess of 11,000 feet with increasing grade near the peak.
"The 2019 Ram 1500 and its 5.7L HEMI® V8 eTorque system came out on top when compared to the competition on TFLtruck's 'Ike Gauntlet'," said Andre Smirnov, managing editor at TFLtruck.com. "All trucks pulled 9,100 pounds, and while the data we collected demonstrated how close the competition really is, the new Ram 1500 stood out with available air suspension and technology features that made hooking up a trailer easier and the trailering experience more relaxed."

The "Ike Gauntlet" drive is not the sole criteria in determining a winner for this award. The Ram 1500 also rated highly in other areas. Judges noted the truck's Four-Corner Active-Level™ Air Suspension (available), ride and handling quality, interior and technology.

Customers in the market for award-winning trucks like the All-New 2019 Ram 1500 should look no further than their local BusinessLink dealership. Stop in and/or schedule an appointment today!