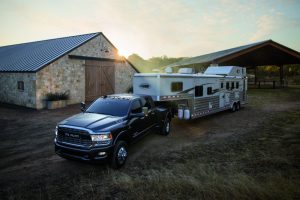 6.7 liters. 400 horsepower. 1,000 lb.-ft. torque.
When it comes to the legendary 6.7L Cummins® Turbo Diesel engine, and Cummins diesel engines in general, the numbers never fail to impress. Recently we welcomed another impressive number to the list: 3 million.
On September 27, 2019, Cummins Inc. produced its 3-millionth engine for Ram Trucks. The milestone is the latest in a storied partnership that spans more than thirty years. Other milestones include:
1988: Introduced first Cummins-powered Ram truck for model-year 1989
1996: Exceeded 200 horsepower
2001: Surpassed 500 lb.-ft. of torque
2007: Launched 6.7L, 350-horsepower engine
2013: Reached 385 horsepower, 850 lb.-ft. of torque
"The relationship that Ram Trucks has with Cummins is one of the industry's most enduring, and continues to raise the bar for power and durability," said Reid Bigland, Head of Ram Brand. "Both companies have benefitted from this partnership, but Ram customers truly get to enjoy the toughness and capability that a Cummins-powered Ram Heavy Duty truck delivers." 

The new 400-horsepower version of the 6.7L inline six turbodiesel high-output engine not only broke the four-figure torque barrier when it was released, it also came with a host of upgrades, including new block, pistons, cylinder head and valvetrain. The upgrades were an effort to achieve more power, better efficiency and reduced Noise, Vibration and harshness (NVH).
The 6.7L Cummins I6 Turbo Diesel engine is an available option in the Ram Heavy Duty and Ram Chassis Cab lineups. Learn more about the entire Ram Trucks lineup and all its available engines at www.fcausfleet.com.