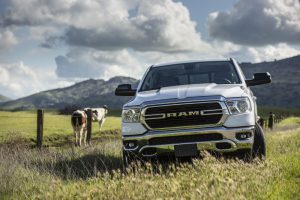 File this one under impressive pickup truck firsts.
The Ram 1500 Crew Cab has been named a Top Safety Pick+ for 2019. It's the highest rating given by the Insurance Institute for Highway Safety (IIHS), and the first time under current IIHS guidelines a full-size pickup truck has earned the rating.

The Top Safety Pick+ rating applies to model-year 2020 trucks as well as 2019 Ram 1500 Crew Cabs produced after May of this year. The trucks that earn the rating are those equipped with Forward Collision Mitigation, FCA's version of Automatic Emergency Braking (AEB) technology, and adaptive LED projector headlamps with high-beam assist.

"This recognition validates our unrelenting efforts to deliver more value for our customers," says Reid Bigland, Head of Ram Brand. "The new Ram 1500 has earned many accolades for its capability and design. It is immensely satisfying to have the IIHS recognize our truck for its compelling safety and security story."

Of the six crashworthiness evaluations conducted by the IIHS, three simulate frontal impacts. The Ram 1500 recorded "good" results in each, the highest possible rating. Outcomes were the same in the three remaining crashworthiness tests, which inflict damage consistent with a side impact, rear impact and rollover.

Meanwhile, Forward Collision Mitigation in the Ram 1500 earned a "superior" rating from IIHS. The optional feature boasts sensor-fusion technology, which blends camera capability with radar detection to determine when an impact is imminent. The system initially warns the driver to take action to avoid a collision. If the driver does not act in a timely manner, and the risk of collision remains, the system may automatically activate the vehicle's brakes1.
To learn more about the innovative safety and security systems of the Ram 1500, please visit a BusinessLink dealership near you.
1This system is an alert system for the front of the vehicle. It is not a substitute for active driver involvement. The driver must remain aware of traffic conditions and be prepared to use brakes to avoid collisions.