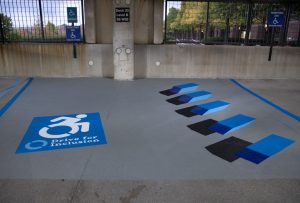 Most drivers understand how crucial accessible parking spaces are to people with disabilities. Ask anyone who drives or rides in a wheelchair-accessible vehicle, however, and they'll tell you how common it is to pull into a parking lot only to find the designated spaces filled with non-eligible vehicles. In fact, a 2018 survey conducted by BraunAbility, a world leader of mobility transportation solutions, found that 74% of people have witnessed abuse of accessible parking.
Just as problematic as non-permitted vehicles in actual spaces is non-permitted vehicles in the "access aisles," those typically well-defined striped areas adjacent to accessible parking spots. Access aisles are designed to allow room for a wheelchair-accessible vehicle to deploy a ramp so that the wheelchair user can enter and exit their vehicle safely. Unfortunately, wheelchair users are often unable to deploy their ramp due to cars parked in the access aisle.
In an effort to raise awareness of this common problem, FCA and BraunAbility teamed up recently to create 3D-illusion access aisles at FCA HQ in Auburn Hills, Michigan. The concept is meant to help people stop and think before parking in the access aisles, preventing employees and guests with wheelchairs from getting in and out of their vehicles. The 3D aisles are part of BraunAbility's Drive for Inclusion program, a movement to ensure the voices of people with mobility disabilities and their caregivers are included in the design of the world around them.
The 3D-illusion access aisles were the focus of a special event recognizing National Disability Employment Awareness Month, which is every October. Please enjoy this video of the illusion taking shape.
The FCA Driveability Program provides customizable adaptive equipment to help make life easier for people with disabilities. Visit the program website to learn more about the available $1,000 reimbursement on the purchase of qualifying equipment.