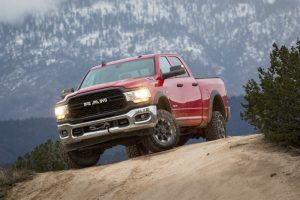 Drum roll, please!
As voted on by the editors of MotorTrend, a popular automotive media brand and a leading voice in the industry, the Ram Heavy Duty (Ram 2500 and Ram 3500, collectively) has been named MotorTrend's 2020 Truck of the Year®. The win marks back-to-back MotorTrend Truck of the Year® awards for Ram Trucks.
MotorTrend's "Of the Year" award recognizes the vehicles that best represent exceptional value, superiority in their classes and impact on the automotive scene. The accolade is one of the most coveted automotive industry awards and represents the pinnacle of an extremely competitive segment.

"The new Ram Heavy Duty makes a powerful statement about our company and the Ram Truck brand," said Reid Bigland, Head of Ram Brand. "In a brutally competitive truck industry, earning MotorTrend's Truck of the Year title in consecutive years reaffirms the fact that we have the best light- and heavy-duty trucks on the road today."

MotorTrend's "Of The Year" program is open to any all-new or substantially upgraded 2020 model-year vehicles. Instead of being compared against one another, contending vehicles are first put through MotorTrend's full battery of performance tests to evaluate virtually every aspect of each vehicle. All competitors are then evaluated on three separate courses at a professional automotive test center before finalists are selected.

After weeks of testing conclude, the judges determine which vehicles will be given "Of the Year" titles. The winners are not chosen from a direct comparison against other finalists, but how each contender measured against the award's six criteria: design advancement, engineering excellence, efficiency, safety, value and performance of intended function.

A full report on MotorTrend's comprehensive testing will be featured on MotorTrend.com and in the January 2020 issue of MotorTrend. To learn more about Ram Heavy Duty, please visit a BusinessLink dealership near you.