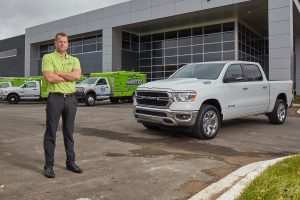 "In business, success favors those who wear their determination on their flannel sleeves, those who let their work do the talking without fanfare."
To hear it told in the video below, the recipe for success is neither magical nor mysterious. It has less to do with good luck and good fortune, and more to do with hard work, a humble spirit and intense focus on the task at hand.
The recipe is one we fully believe in here at FCA US LLC. While we could tell you all about the multiple awards earned recently by our vehicles (like this one, this one and this one), or the available class-exclusive features you can order on select Ram trucks, we find that sometimes it's better to simply let the vehicles do the talking, because sometimes the best way to lead – in the auto industry or otherwise – is to lead by example. Please enjoy.
Follow our lead to a dealership near you, where a dedicated account manager can direct you toward the perfect work vehicles for your business, whatever the vocation.