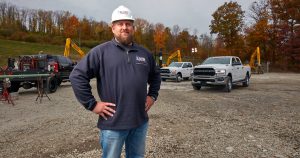 "You support your team. You trust you team. I put a lot of trust in my employees. They have each other's backs." –Tanner Dufrene, TJD Energy Service
Successful businesses run on trust.
Owners have to trust management, management has to believe in the team members assigned to them and team members must have faith in the direction laid out by leadership.
Furthermore, everyone in the company, from trainee to president, must trust that their equipment, especially heavy equipment, will perform as needed and expected even when conditions are not ideal.
A company like TJD Energy Service is no exception. When it comes to work vehicles, they've put their trust in their Ram Trucks ever since owner Tanner Dufrene bought his first Ram 3500 in 2001.
Visit our website or a BusinessLink dealer near you to begin or continue your own journey with Ram Trucks and/or other work vehicles from FCA US LLC.