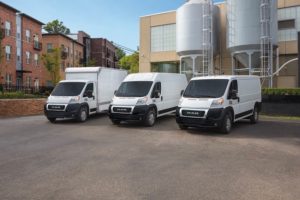 Running a business successfully is about limiting the unknown.
Ram Telematics™ powered by Verizon Connect is an available web-based fleet management tool that provides a broad range of real-time vehicle data, diagnostics and driver-behavior information to business owners. The result is a clearer picture of employee driving habits and a better understanding of how company vehicles are being used out in the field.

With features like idle-time monitoring, GPS-verified vehicle location, time-on-site and more, Ram Telematics offers significant benefits to companies that rely heavily on employee travel between deliveries or job sites. Here's a closer look at how it can and should be put to use in the day-to-day operation of your business.
Driver Safety and Security
Help keep drivers out of harm's way with proactive mobile solutions that monitor traffic conditions and road construction. Ram Telematics also gives business owners and fleet managers the tools to correct unsafe driver behavior and allows drivers to reach out for help when they need it.
Fuel Savings
Though the price of fuel fluctuates, using less of it over time will have an overall positive impact on your bottom line. Ram Telematics can help you get a better understanding of how your employees use fuel and will allow you to correct any issues related to inefficient usage, helping save you money in the long run.
Increased Productivity
Business productivity is about getting more done with fewer resources in less time. Ram Telematics provides real-time access to data that can help improve planning, reduce overtime and limit unauthorized vehicle use – in short, you'll see what's working and what isn't.
Improved Return on Investment
Ram Telematics can help uncover hidden costs while also revealing potential for greater productivity and efficiency, which can lead in turn to reductions in fuel usage, overtime, paperwork, at-risk driving and much more.
 
Starting with model-year 2018, all new Ram brand pickup trucks, chassis cabs and cargo vans include built-in access to Ram Telematics. For more information, visit https://www.fcausfleet.com/telematics.html.