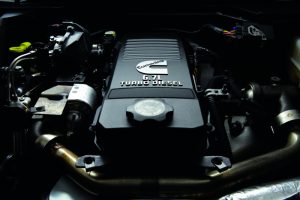 The long and storied partnership between Ram Trucks and Cummins® Engines hit a remarkable milestone on September 27, 2019, when yet another Ram truck powered by yet another Cummins diesel engine rolled off the assembly line for the three millionth time.
Three million. It's hard to put a number like that in perspective. We tried to do the moment justice when we wrote about it here, highlighting the 30-year partnership between Cummins and Ram Trucks along with a few other major milestones, like the year the duo surpassed 500 lb.-ft of torque (2001).
What would have made the original story better – and what we can do now – is show our readers the good home this very special truck eventually made its way to. It just so happens that it's a working farm where Ram Trucks and Cummins engines have long been appreciated. Please enjoy this video.
Looking for a pickup truck, chassis cab or cargo van that perfectly meets the needs of your business? Visit our website to explore the full lineup of hardworking Ram brand vehicles.