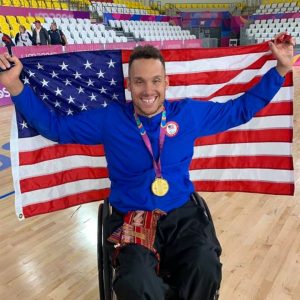 On July 9th, 2004, Joe Delagrave was a tall, strong, seemingly invincible 19-year-old college football player with big dreams quickly becoming a reality. On July 10th, 2004, just one day later, he was paralyzed, and his long-held aspirations, goals and athletic identity were gone. Or so he thought.
Though his life changed profoundly at age nineteen, Joe learned to adapt to his new circumstances and, in time, to thrive in them. In the years since his accident, and through no shortage of hard days and real challenges, Joe has found a way to persevere and succeed, becoming a husband, father, family man, Paralympian, keynote speaker and, ultimately, an inspiration to anyone who faces difficult challenges and obstacles of their own.
We asked Joe to share a little about his experience and his perspective on life and living forward. We are thrilled to have the chance to share his wisdom with you now. Please enjoy.
What does it mean to #LiveForward?
Live forward. Thinking through these two simple words has me wondering if I have implemented them in my life. Am I conscientious of the power to live in a way that is seen as pushing ahead through barriers and obstacles? The simple answer is yes. I think that #LiveForward means to embrace the past, learn from the circumstances outside of our control, but ultimately continue to push onward. We all get a choice to #LiveForward despite the challenges that come in life.
How do you #LiveForward each day?
Before I tell you how I live forward each day, I want you to understand that there needs to be a pause before the pivot. I didn't just decide to keep moving forward right away. There was a pause, a reflection, and recalibration to understand where I was at mentally, physically, and spiritually. Here I was at 19, with some new wheels, a new body, a new perspective and a choice. I could choose to live stuck in this new reality or I could choose to #LiveForward. Through small choices of finding opportunity each day, I am able to #LiveForward with a checklist of the dreams and goals I thought were gone at age 19. I am on a mission of sharing my story in hopes that people realize there is a path for them too!
Do you have any advice for others looking for motivation to #LiveForward?
I have been very fortunate to accomplish my goals of athletic success, marriage, kids, a job that has a beautiful intersection of passion and purpose and a better understanding of who God made me to be. My advice: it doesn't happen overnight. Those small goals start breeding something called momentum. You'll have hiccups, obstacles, and difficult circumstances, but you'll also have a choice! Keep choosing to #LiveForward by choosing to find opportunities with a Victor Mindset!
Want to learn more about Joe? Visit his website. Visit our website to learn how to get reimbursed up to $1,000 for adaptive vehicle equipment: https://www.fcausdriveability.com/