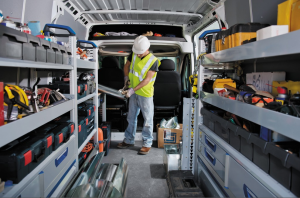 BusinessLink® is a free program that connects small business owners like you with Chrysler Commercial Vehicle dealers specifically equipped to get you what you need and to help your business grow.
Here are eight ways small business owners benefit from becoming a member:
Next-Bay Service
BusinessLink members are the VIPs of their local Chrysler, Dodge, Jeep® and Ram Truck dealerships. As a member you'll advance to the front of the line when you arrive at the dealership for maintenance and repair work.
Loaner Vehicles
We understand that when it comes to your small business, there is no time for downtime. That's why BusinessLink offers a Free Alternate Transportation Contract with the purchase of any new work vehicle*.
Dedicated Account Manager
There are over 900 Chrysler Group dealerships that have a specialized BusinessLink department with account managers focused on the needs of small business owners in the community. Once you enroll in the program, you'll be assigned a dedicated account manager who will be your go-to advisor for your work vehicle for years to come.
Free Shuttle Service to the Office
Need to drop your work vehicle off at the dealership for maintenance? We'll happily give you a lift back to your office or jobsite.
Extended Service Hours
As a small business owner, getting the job done and satisfying your customers is your first priority. It's ours too. We'll put in extra hours so that your vehicle will be ready faster. With extended service hours, you can rest assured that maintaining your work vehicle won't interfere with the job at hand.
We've Got Upfitters in High Places
Your dedicated account manager will guide you through the upfitting process, introducing you to professionals who specialize in tailoring vehicles to meet the needs of businesses across all industries.
The Best Selection of On-the-Lot Vehicles
Since your BusinessLink dealership is also your local Chrysler, Dodge, Jeep® and Ram Truck dealership, you will have access to a huge selection of on-the-lot vehicles that are ready to test drive and purchase when you are.
Unrestricted Service
No matter what Chrysler Group vehicle you choose, BusinessLink has you covered. Our dealers and mechanics are certified to service all makes and models.
Enrollment for qualifying businesses is quick and easy. Just register online or call 1.877.2THELINK, and your nearest BusinessLink Dealer will reach out to complete the process for you.
*Vehicle must be coded as a BusinessLink sale on the NVDR and be within the 3/36 Basic Limited Warranty period. Vehicles shown with upfit equipment bodies or components form and independent supplier. See owner's manual for information on Alterations and Warranties.