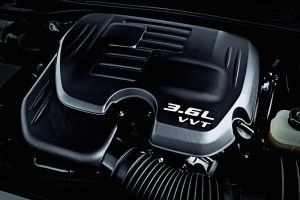 Welcome to the FCA Work Vehicles Glossary, an ongoing blog series in which we define common (and not so common) vehicle terms so that average buyers can make more informed decisions when purchasing new vehicles for work. Today's entry is the 3.6L Pentastar® V6 engine.
What is it?
The 3.6L Pentastar V6 engine is the most widely used engine in the FCA US LLC family of brands. Available in no less than 13 different nameplates in model year 2016 alone, this versatile engine has been named one of Ward's 10 Best three times since its launch in 2011, most recently in 2013. Depending on the vehicle and transmission to which it's mated, the 3.6L Pentastar V6 engine achieves between 280 and 305 horsepower along with a respectable range of 260 to 269 pound-feet of torque.
Why it matters?
Hitting the sweet spot between capability, performance and efficiency, the 3.6L Pentastar V6 engine is the true workhorse of FCA US lineup. With enough brute strength to satisfy owners of the Ram 1500, Dodge Challenger and Dodge Charger, the engine can swing the needle toward efficiency as well, especially true for the 2016 Jeep® Grand Cherokee version, which features integrated start/stop technology and other adjustments to help boost MPG to 26 miles on the highway.*
In short, the 3.6L Pentastar V6 engine is found in so many FCA US vehicles for a reason, and a good one at that – it's a well-engineered, relatively efficient power plant that's suitable for everyday drivers as well as those who sometimes need just a little more capability. It's the best of both worlds, one could say.
Visit your local BusinessLink dealer for more information on Chrysler, Dodge, Jeep and Ram Brand vehicles equipped with the efficient and capable 3.6L Pentastar V6 engine.
*Based on manufacturer's estimated MPG with 3.6L engine and eight-speed automatic transmission, 4×2. Actual mileage may vary.