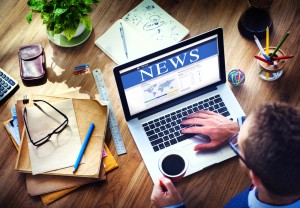 Here at FCA Work Vehicles US, we understand that entrepreneurial success comes, in part, from staying on top of developments in the world of small business. We also understand that in any given month there is just too much good information to discover on your own.
With that in mind, we're pleased to bring you the July edition of Small Business in the News, a monthly series in which we share a few of the noteworthy articles we've come across in our own attempt to stay "in the know." Please enjoy.
Yet another change to the Facebook algorithm could spell difficult times ahead for businesses that have made the social network a cornerstone of their marketing strategy. Giving precedence to content created and shared by users over content posted by business pages, the algorithm change could drastically reduce the visibility of a brand's organic (read: not paid) marketing efforts. In response to the change, this article in Small Biz Trends recommends that business owners and employees share relevant content on their own pages in an attempt to establish themselves as "thought leaders" within the industry in which they work.
While the glory days of unpaid online marketing may be fading gone (see above), there remain a number of effective ways for small businesses to reach their target audience online – one must be willing to spend a little money is all. This article from NAHB (an FCA US LLC partner) discusses five strategies for connecting with potential customers, from SEO optimization to remarketing campaigns. Overall it's an excellent primer for small-business owners new to the world of online advertising.
Maintaining the digital theme, the third and final story in this month's Small Business in the News takes a close look at a burgeoning technology: voice search. According to this article from Independent We Stand (IWS), voice search "refers to the feature of many devices that allow users to verbally dictate their search query." In other words, it's the act of asking Siri or Cortana directions to the nearest pizza parlor or sporting goods store. With voice search poised to potentially change the way consumers locate goods and services, IWS suggests that small businesses optimize their presence online to account for it. What exactly does that look like? Read the article to find out.
Have you recently come across any small-business news worthy of sharing? If so, let us know about it in the comments section below!