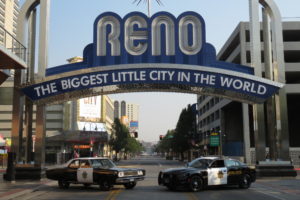 For 50 years and counting, the Reno Police Department has put its trust in the pursuit and patrol vehicles of Dodge Law. The fact is one we do not take for granted, nor could we be prouder. Brand loyalty is earned, after all, and a relationship of that length is indicative of the hard work we put in to build the best vehicles possible.
In honor of that 50-year relationship, we're pleased to share the following statement from the Reno PD. That they use Dodge vehicles, past and present, for community outreach is, to us, as special as when officers use them on patrol.
The Reno Police Department has proudly served the Biggest Little City since 1903 and is a nationally recognized policing model. Part of our success is attributed to actively engaging with the community at the many activities and events in the region. Some of the most popular features of this engagement are the police cars.
The Reno Police Department proudly presents two remarkable vehicles that are a look at the past and the present.
Step back in time and visit the vintage 1968 Dodge Coronet 440 sedan. The Dodge Coronet boasts muscle and power with a stylish and distinctive look. The Coronet could handle the daily patrols and enforcement and still place in a parade!
The Coronet you see here is Patrol Unit #068 and was purchased with state funds for public awareness and education and is routinely used for special events, public education and community engagement. Patrol Unit #068 boasts an Edelbrock Manifold and dual exhaust. It was refurbished locally.
Opposite the Coronet is a 2018 Dodge Charger Pursuit. One look at this streamlined body and you can see we still have that muscle — the available 5.7L HEMI® engine pushes 370 horsepower while looking as dashing as ever. The Charger also features available all-wheel drive, which allows for more control and maneuverability, especially in our four-season climate!
While the vehicles have changed over the years, the passion and dedication to serving this community continue to grow and inspire!
By producing ever more capable sedans, SUVs and pickup trucks, we hope to maintain and grow strong relationships with the Reno PD and agencies like it across the country. Visit the FCA Law Enforcement website for more information on our pursuit and special service vehicles.