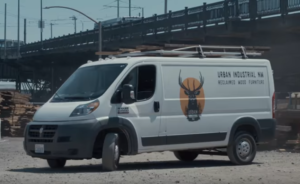 Best-in-class lowest load floor height1 … best-in-class 36-foot turning diameter1 … best-in-class cargo width between wheel wells1 … nearly 90-degree vertical walls … 260-degree swing-open rear doors … newly standard ParkView® Rear Back Up Camera2 … class-excusive front-wheel drive1 …
We could talk for days about the many great features that make Ram ProMaster® cargo vans must-own vehicles for a wide range of industries and businesses. A more effective way to convey how a small business like yours could benefit from Ram Brand cargo vans is to show them in action in real-world situations.
Take this video featuring Urban Industrial Northwest, for example. The Washington-based company builds custom furniture from reclaimed wood that owners Victoria and Greg Hostetter seek out and transfer back to the shop with help form their Ram ProMaster, a cargo van that meets all their needs and looks good doing it.
Visit your local BusinessLink dealership to learn more about the Ram ProMaster and/or other built-for-work vehicles from FCA US LLC.
1Based on the Large Commercial Van Segment (Class 2).
2Always check entire surroundings visually before backing up.