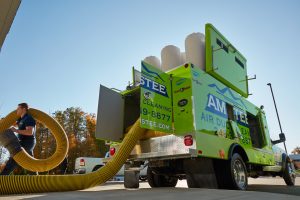 "We want to be the best. We want to be the best air duct cleaner. We want to be the best service company." –Mike McCowan, Co-Owner, Amistee Air Duct Cleaning
An unrelenting desire to be the best at what you do is almost a prerequisite for entrepreneurship. Business owners and operators who want their companies to thrive, not just survive, will do everything in their power to put themselves, their colleagues and their employees in an optimal position to succeed. For Michigan's Amistee Air Duct Cleaning, that includes maintaining a fleet of dependable, capable Ram brand work vehicles the entire team can rely on and trust.
Please enjoy this video of Amistee's fleet of Ram trucks in action. For help building or maintaining your own fleet of Ram trucks or cargo vans, or another brand of FCA vehicle, visit our website or contact a BusinessLInk dealer near you.