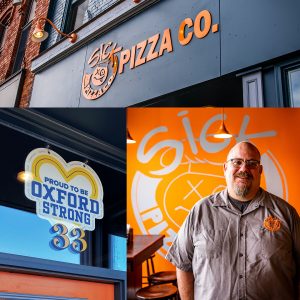 When a community experiences tragedy, first to step up with help and support are often the small businesses who call that community home.
From feeding first responders to organizing volunteers to raising money for victims, small-business owners and their employees are typically quick to contribute time, money and manpower along with any other resources that may be required.
Such was the case after a recent tragedy at Oxford High School in Oxford, Michigan. Sick Pizza Company, a local restaurant co-owned by Scott Taylor (pictured) and featured previously on our social media channels, suspended normal operations for several days to raise money for the families of victims.
By asking for and accepting donations rather than regular payment in exchange for pizzas, the popular pizza place raised over $100,000 for those affected. Aiding Sick Pizza in the raising of funds were several other local restaurants and businesses, who all contributed what they could – everything from pizza boxes, cheese and sauce to money and labor.
We applaud Scott and the whole crew at Sick Pizza Company for answering the call when their community needed them most. We invite you to visit their Facebook page to show your support for their ongoing fundraising efforts, which, according to a recent post, have garnered donations from as far away as Japan.